Reach us by email
office@stjohnspalmerton.com
By Phone:   (610) 826-2611
Office Hours
Due to COVID 19 closures,
please call and leave a message if you need someone in the office
or email the church.
CHURCH ADDRESS: 365 Lafayette Avenue  Palmerton PA  18071
Canon Lexa Shallcross
Supply Priest
Office Phone :
(610) 826-2611
A huge thank you to The Rev. Canon Doris Bray for her many years of faithful leadership here at St. John's.
May her retirement be BLESSED!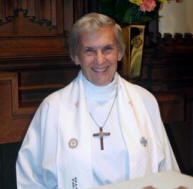 The Rev. Canon Doris S. Bray
SUNDAY WORSHIP SERVICES
ONLINE RESOURCES during COVID 19
check facebook: St. John's Episcopal Church of Palmerton
website: stjohnspalmerton.com…worship section.